Release Date: June 9, 2017
Expiration Date: May 31, 2019 (subject to change)
AANP CE for this activity will not be available after this date.
---
Overview
Though healthcare providers are very familiar with the meningococcal serotypes A, C, W, Y (MenACWY) vaccine, many healthcare providers are unaware of a recently developed vaccine for meningococcal serotype B disease (MenB). To add to the confusion, the United States Advisory Committee on Immunization Practices (ACIP) designates Category A & Category B recommendations for use of MenB vaccines based on assessment of individual risk and provider-patient clinical decision making. Contrary, ACIP designates MenACWY vaccine as a Category A recommendation for all in the appropriate age group. Because many adolescents and young adults are vaccinated against meningococcal A, C, W, Y serotypes, the United States is seeing a rise in serotype B disease – especially on college campuses. This CE activity reviews the definitions of Category A & B recommendations, which individuals should receive MenB vaccine, and strategies to overcome provider and patient barriers to receiving this important vaccination.
---
Activity Instructions for Credit
Read this activity description, including objectives and disclosures.

Complete the educational content completely:

Video Presentations: Watch the video presentation completely.

Review all additional materials provided (handouts, posttest reviews, any other downloadable resources).

After completing all content, go to

Steps To Receive Credit

to complete the posttest and evaluation to receive full AANP CE/Rx credit. If other types of credit are offered, these options will be available after completing the activity evaluation.
AANP CE Credit: To receive the CE for this activity complete the steps above.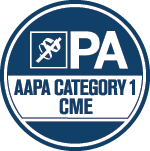 AAPA CME Credit: This program has been reviewed and is approved for a maximum of 1.00 AAPA Category 1 CME credits by the AAPA Review Panel. Approval is valid for one year from the issue date of 08/15/2017. Participants may submit the post-test at any time during that period.
---
Objectives
After completion of this activity, the learner will be better able to:
Discuss the differences between ACIP's Category A and Category B recommendations for all vaccines.

Contrast the characteristics of adolescent and young adults that exist in both ACIP's Category A and Category B groups for the MenB vaccine.

Explain the two FDA approved MenB-FHbp dosing series and which patient groups are excluded from the recently approved alternative dosing series.

Strategize a plan for implementing MenB vaccines to patients age 10 to 25 based on ACIP's recommendations for Category A and Category B.

Suggest techniques, including resource and educational tools, as aids in clinician/patient interactions to communicate the importance of MenB vaccinations.
---
Faculty
Audrey Stevenson, PhD, MPH, MSN, FNP-BC
Maria Lanzi, MS, MPH, ANP-BC, COHN-S, CTH
---
Disclosure
This activity was planned in accordance with AANP Accreditation Standards and Policies and is supported by an educational grant from Pfizer.
This program was planned in accordance with AAPA CME Standards for Enduring Material Programs and for Commercial Support of Enduring Material Programs.
Faculty affiliations:
Audrey Stevenson: Speakers Bureau – Sanofi Pasteur and Abbott Pharmaceuticals

Maria Lanzi has no actual or potential conflict of interest in relation to this presentation. The opinions expressed in this presentation are her own and not the formal opinions of the Veterans Health Administration.
This educational activity may contain opinions of the speakers from their personal experience. The activity may contain discussion of published and/or investigational uses of agents that are not indicated by the FDA. Please refer to the official prescribing information for each product for discussion of approved indications, contraindications, and warnings. Further, attendees/participants should appraise the information presented critically and are encouraged to consult appropriate resources for any product or device mentioned in this program.
---
Additional Information:
For questions about this online CE activity, or more information concerning the AANP CE Center, contact the AANP CE Center Manager at CECenter@aanp.org.