Other:
Abuse
,
Acute Abdomen
,
Addiction
,
Assessment
,
Controlled Substances
,
Depression
,
Diagnosis
,
Evidence-Based Guidelines
,
Health Behavior
,
Health Promotion
,
Mental Health
,
Pain Management
,
Pediatrics
,
Pharmacology
,
Risk Management
,
Screening
,
Substance Abuse
,
Tobacco Cessation
,
Treatment Plan
(show less)
Release Date: June 15, 2017
Expiration Date: August 31, 2019 (subject to change)
CE for this activity will not be available after this date.
Overview
Part 1: This course aims to help clinicians discuss, identify, and address substance use and prescription medication misuse with adolescent patients. Videos from clinicians enhance this course, which also aims to help clinicians navigate confidentiality in discussions with teen patients about their substance use. Features tips and talking points for patients at all risk levels.
CE Credit Instructions
Read this activity description, including objectives and disclosures.

Complete the educational content completely:

Video Presentations: Watch all video presentations completely.

Review all additional materials provided (handouts, posttest reviews, any other downloadable resources).

After completing all content, go to Steps To Receive Credit to complete the posttest and evaluation to receive full AANP CE/Rx credit. If other types of credit are offered, these options will be available after completing the activity evaluation.
Objectives
After completing this activity, the learner will be better able to:
Describe the prevalence of substance use and prescription medication misuse among adolescents

Explain why adolescents are at high risk of developing a substance use disorder and how clinicians can help prevent it

Demonstrate strategies to build trust with adolescent patients and ensure confidentiality when addressing substance use and prescription medication misuse

Summarize ways to identify substance use and prescription medication misuse in adolescent patients, including determining their level of risk
Faculty
This activity was developed by an education Coalition of experts and medical professional organization representatives. The Coalition comprises the following organizations and experts: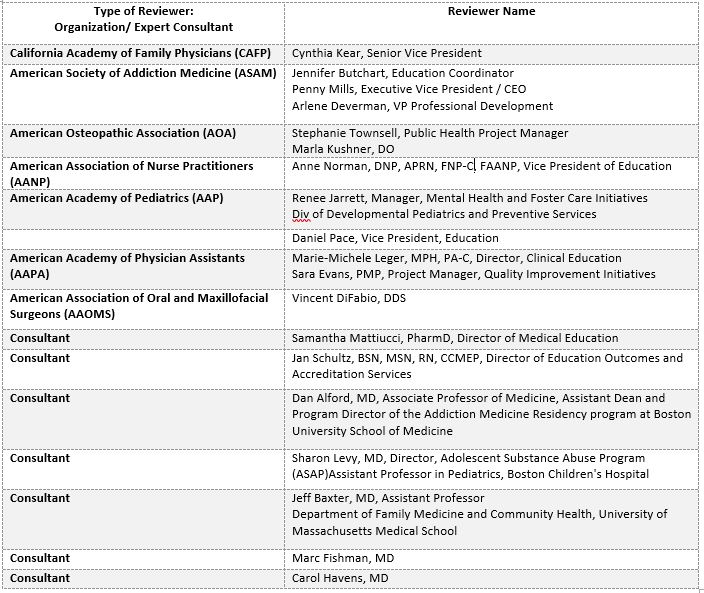 Faculty disclosure
Marc Fishman, MD discloses the following: Consulting Fees: US World Meds; Contracted Research: Media Rez, US World Meds. Ownership Interest: Maryland Treatment Centers.
The following Education Coalition members have no commercial relationships to disclose: Cynthia Kear, Jennifer Butchart, Penny Mills, Arlene Deverman, Stephanie Townsell, Marla Kushner, Anne Norman, Renee Jarrett, Daniel Pace, Marie-Michele Leger, Sara Evans, Vincent DiFabio, Jan Schultz, Dan Alford, Sharon Levy, Jeff Baxter, Marc Fishman, and Carol Havens.
Disclosure
This activity was planned in accordance with AANP Accreditation Standards and Policies in collaboration with the National Institute on Drug Abuse (NIDA).
This educational activity may contain opinions of the speakers from their personal experience. The activity may contain discussion of published and/or investigational uses of agents that are not indicated by the FDA. Please refer to the official prescribing information for each product for discussion of approved indications, contraindications, and warnings. Further, attendees/participants should appraise the information presented critically and are encouraged to consult appropriate resources for any product or device mentioned in this program.
For questions about this online CE activity, or more information concerning the AANP CE Center, contact the AANP CE Center Manager at CECenter@aanp.org.